Providing Excellence in Things We Do
We are committed to providing excellent service to our customers since 2007. Providing excellent service to customer is our primary goal. This goal help our company employees for work motivation and inspiration.
Laith Al-Ghzawi
We are glad to make Krome our IT outsource support team,, Krome is a very responsive and attentive to our IT needs & problems , they provide us with Comprehensive support and easy to reach when required .I can state with confidence that Krome team is motivated and have a high degree of integrity & Knowledge
Eng.muhanad Zayed
Krome has been installed IP surveillance systems in all our directorates to meet our needs in archive all recordings in one storage , that offering a reliable and highly efficient solution.
Abd-Alkareem Yahiya
3CX is a PBX miracle; filled with useful Unified Communications features that allow any organization to build a fully mobile workforce utilising a fully supported bring your own device philosophy. With crystal-clear connection quality, extended reach beyond the office environment and a massive 50% cost saving when compared to other options. In addition Krome ticketing support system ease to accessible & flexible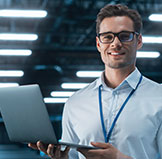 We are Trusted By
Different Business
Sectors
Over 16 years of industry experience providing top-notch IT solutions for businesses

Highly skilled service department fully equipped to handle all your systems and solutions needs

Committed to exceptional service and guaranteed satisfaction

Prompt resolution of any issues that may arise

Empowering your business with innovative and cutting-edge solutions

Dedicated team working tirelessly to ensure your investment is in capable hands

Proven track record of success with numerous satisfied clients

Competitive pricing and customized solutions tailored to meet your unique business needs

Continuously staying up-to-date with the latest technology trends and advancements

Partnering with you to help your business grow and succeed.